Windows Data Recovery Services
Top-Quality Service for All Windows
Lost your window's data? DATA RECOVERY STATION Bangladesh has enough equipment to assist you in recovering lost, deleted, corrupt or damaged files from your Microsoft Windows operated desktop, laptop, server, smart phone or tablet. So, allow us to recover lost data from a variety of logical issues such as deleted data and Microsoft Windows corruption. Our expert engineers have several years of data recovery experience. So, you get the highest quality service available. We have been authorized by many Windows operated hardware sellers to open their hard disk drives for recovery purposes without cancelling the manufacturer's warranty.
Area of specialization
DATA RECOVERY STATION Bangladesh is skilled of recuperating deleted data from all Windows versions. We have recovery experience in:
System crashes
System corruptions
Formatting errors
Overwritten Word and Excel files
Viruses
Accidental deletions
DATA RECOVERY STATION Bangladesh offers dedicated withdrawal and recovery services for windows data recovery. So, you are most welcome!
What are the Windows data loss scenarios?
The trained engineers of DATA RECOVERY STATION Bangladesh recover lost messages, pictures, contacts, music and files from windows that are suffering from physical failure. This damage can be caused by water, being dropped or any other incident that causes physical damage to the device.
How Can DATA RECOVERY STATION Bangladesh Help?
At DATA RECOVERY STATION Bangladesh, we have branded recovery software, state of the art infrastructure, and skilled engineers to solve all kinds of desktop data loss problems.
Our technicians are able to extract the valuable data from your computer without damaging any physical or virtual component.
They handle a carefully planned approach with the right techniques.
Moreover, DATA RECOVERY STATION Bangladesh has a dust-free and pristine Class 100 Clean Room. So, it ensures that if our experts work on your system, the environmental risk is non-existent.
Drop it to us we will recover your data.
Our data recovery service comes with 100% money back policy.
We will give you adequate time to verify your recovered data. We are the best qualified company in Bangladesh as a data recovery service company. We earned an excellent popularity within a short period of time.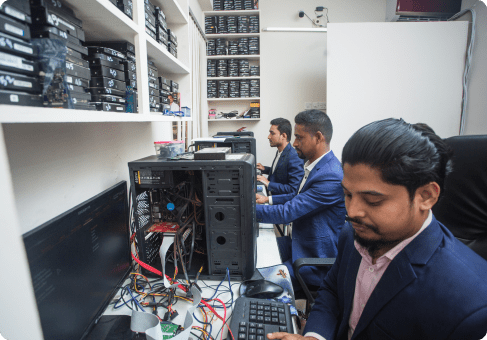 We have the right technologies, as well as an ISO 5 Standard (Class 100) clean lab facility.
With certified Cleanroom technology and a widespread track record of success. Our dedicated data recovery specialist will work with you to fix the greatest course of action for your data recovery.
You need assistance from experienced engineers that avoid a data loss tragedy, when your media fails. As a customer, you need an excellent security, fast turnaround and the best available technology to recover your files as swiftly and as securely as possible.
Real Stories
From Real Clients
I am really happy, 'Data Recovery Station' helping me to recover my data. This is one of the finest organization ever
I seen in my life to support all types of data recover. When you face some problem in your Hard disk, Pen drive and
Etc devices which hold/preserve data and if you want to recover this data. Then don't waste your time, just contact with him.
I got a quick service from Data Recovery Station when i needed the most.i got my all important videos and images
within a short time from a RAW formatted sd card.Excellent Service from the team and Behavior was very humble. Highly Satisfied
One of the best rocovery centre in Bangladesh,
One of the best rocovery centre in Bangladesh, "my experience" . Their behaviour is excellent in one word.
If there is any credible center in Bangladesh, they are one.I am 100% satisfied.Recommend 👍😊
Best Solution For Your Device
Drop it to us we will recover your data.