Top-Quality Service for All Types of Laptop
Laptops are inevitable to transportable. Unfortunately, this means a higher risk of physical and logical damage consequential in data loss. Lost data from your laptop? Call us; we can help! Our team of experts will deplete all resources to get your data back. Laptop may endure many shakes and bumps on a daily basis, when you carry your laptop everywhere you go-workplace, meetings, back to home and even during travelling. Consequently, even if you are tremendously careful, your laptop can start to malfunction unexpectedly.
Some issues like hard drive related issues or software issues can prevent from accessing stored on your laptop hard drive. DATA RECOVERY STATION Bangladesh can help you to recover data from your laptop drives. As market leaders in data recovery services, we specialize in laptop hard drive recovery service. We can ensure that DATA RECOVERY STATION Bangladesh have the best available option for laptop data recovery. Our excellent team of experts can restore data from damaged laptops. Experts of DATA RECOVERY STATION Bangladesh laptop recovery service can help you, if your laptop data has been compromised either because of physical damage or logical damage.
QUALITY DATA RECOVERY SERVICE FOR YOUR LAPTOP
To recover your data from the new-age laptops requires a certain level of skill and the right tools. And fortunately, at DATA RECOVERY STATION Bangladesh we have both.
Operating systems
Mac OS X
Windows 10/8/7/XP
Linux
Drives
Hybrid hard drives
SSD drives
5 Inch drives
5-inch drives
8 micro SATA hard drives
Though every data loss is unique, we have the ability to customize our service to meet all customer needs.
What are some of the common reasons behind laptop failure?
The following are some of the most common causes of laptop data loss include:
Moisture/ Liquid Damage
Impact Damage
Motherboard Failure
Overheating
Data Corruption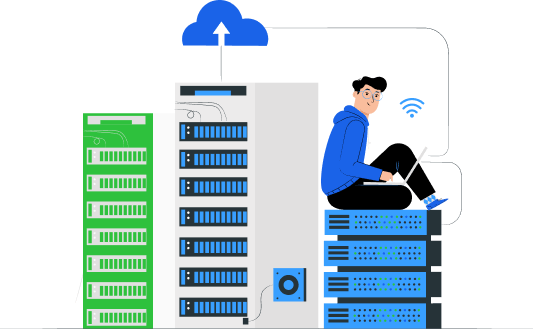 Moisture/ Liquid Damage
it is very common for us to accidentally fall a cold beverage or coffee on their laptops only that can cause a huge damage. Yet, it's nearly impossible to bring the laptop back to life unless you get a laptop recovery service by a skilled technician, if you face this type of issue.
Impact Damage
A laptop is a full-size computer packed into a compact unit. But, this also means it's extremely sensitive to physical impact. Actually, it can take just a single reminder for its hard drive or some other important component to be damaged.
Motherboard Failure
The motherboard is the circuit board. It connects all the components of a laptop- processor, RAM, GPU, hard drive, power supply, etc. to each other. So, if it fails, the laptop is as good as dead. Regrettably, this can easily happen due to power surges or unpredictable short-circuiting, etc.
Overheating
A laptop has a comparatively modest air-circulation system at best. Meanwhile all the components are bundled together, even a minor dust accumulation can make the inside-temperatures go through the roof. More significantly, excessive overheating can badly damage the laptop and possibly fry the hard drive too, if you don't check!
Data Corruption
There are many reasons of data corruption. These include abrupt shutting down of the system, hardware changes, malicious software/viruses, user errors, or the age of the drive itself. That said, when this happens, then the data can't be read except you arrange for a safe laptop hard drive recovery service.
 What are the symptoms of laptop failure? 
Laptops may present any of a number of data loss symptoms according to the failure scenario, the laptop's operating system and a number of other factors.
Some of the most common early warning signs of data loss include:
Frequent Freezing and Crashing
Clicking, Whirring or Other Unusual Noises
Excessive Fan Noises
Burning Electronics Smell
Operating System Will Not Boot
Laptop Cannot Boot Past BIOS
Failure to Mount or Recognize Attached Media
Power Issues
 What can I do if my laptop is failing? 
Turn off computer immediately
Do not restart laptop
Do not install or re-install any software
Do not shake, disassemble, remove or attempt to clean a suspected damaged hard drive
Do not use file recovery or other utility software
Do not attempt to dry a wet laptop
Never attempt to operate any visibly damaged devices
Contact data recovery specialists providing DATA RECOVERY STATION Bangladesh immediately
 Why DATA RECOVERY STATION Bangladesh Data Recovery? 
We have 24/7/365 emergency services for critical data loss scenarios.
In many cases, our engineers can recover and repair damaged laptops in less than 24 hours through this service option.
Another major thing that makes us stand out from others in the space is that we take the privacy of our customers very seriously.
We also have Class 100 Clean Room which is a 100%particle-free lab services to our customers.
So, when you bring a laptop to us for service, you can rest assured that your personal data on the device will be 100% safe and protected from unwanted access.
 How Can DATA RECOVERY STATION Bangladesh Help? 
At DATA RECOVERY STATION Bangladesh, we have branded recovery software, state of the art infrastructure, and skilled engineers to solve all kinds of desktop data loss problems.
Our technicians are able to extract the valuable data from your computer without damaging any physical or virtual component.
They handle a carefully planned approach with the right techniques.
Moreover, DATA RECOVERY STATION Bangladesh has a dust-free and pristine Class 100 Clean Room. So, it ensures that if our experts work on your system the environmental risk is non-existent.
Don't Panic!
We'll Save Your Data
Drop it to us we will recover your data.
Our data recovery service comes with 100% money back policy.
We will give you adequate time to verify your recovered data. We are the best qualified company in Bangladesh as a data recovery service company. We earned an excellent popularity within a short period of time.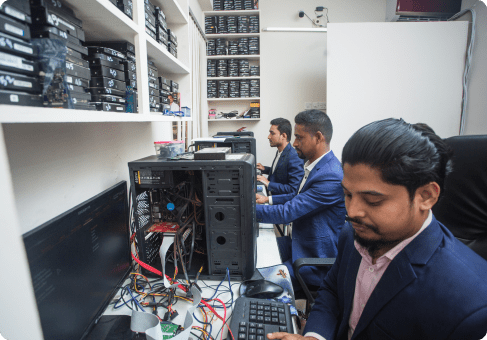 We have the right technologies, as well as an ISO 5 Standard (Class 100) clean lab facility.
With certified Cleanroom technology and a widespread track record of success. Our dedicated data recovery specialist will work with you to fix the greatest course of action for your data recovery.
You need assistance from experienced engineers that avoid a data loss tragedy, when your media fails. As a customer, you need an excellent security, fast turnaround and the best available technology to recover your files as swiftly and as securely as possible.
Real Stories
From Real Clients
I am really happy, 'Data Recovery Station' helping me to recover my data. This is one of the finest organization ever
I seen in my life to support all types of data recover. When you face some problem in your Hard disk, Pen drive and
Etc devices which hold/preserve data and if you want to recover this data. Then don't waste your time, just contact with him.
I got a quick service from Data Recovery Station when i needed the most.i got my all important videos and images
within a short time from a RAW formatted sd card.Excellent Service from the team and Behavior was very humble. Highly Satisfied
One of the best rocovery centre in Bangladesh,
One of the best rocovery centre in Bangladesh, "my experience" . Their behaviour is excellent in one word.
If there is any credible center in Bangladesh, they are one.I am 100% satisfied.Recommend 👍😊
Best Solution For Your Device
Drop it to us we will recover your data.