SD/CF Card data RECOVERY SERVICE
Top-Quality Service for All Types SD/CF Card
With over couple of years' experiences in the data recovery industry, we have performed a lot of successful recoveries on memory cards. These devices include SD cards, micro SD cards, CF cards, and any other memory storage devices. Being a specialized data recovery company, we professionally focus towards the main goal to recover your critical data stored on SD memory cards. So, if you are disturbed by SD-card data loss and want the best SD card recovery service, come to us.
SD card comes with a limited life span which is similar to any other storage media device. It's has a limited read/write period. The SD card can show bad sectors if this period is exceeded. The data can be inaccessible. Occasionally, controller failure or physical damage can also be cause of data loss in SD card. SD card holds huge data. So, if your data of SD is gone, it can cause extreme panic.
At DATA RECOVERY STATION Bangladesh, we have team of expert data recovery professional who can recover data from SD card facing any data loss situation. As our experts are taught to follow strict procedures, the first attempt at data recovery always has the highest probability of success. At DATA RECOVERY STATION Bangladesh, we offer a best and reliable memory card recovery service that can help you get your lost data or deleted files from your SD card.
THE GREATEST FAST DATA RECOVERY SERVICE IN BANGLADESH
We are specialized in:
Lost data from memory card hardware failure
Lost data from memory formatting
Physically damaged SD cards
Get Started with Your SD Card Data Recovery from us
Please call +8801758377110 / +8801758377114 for immediate support or fill out an online help request to start your SD card data recovery soon!
What are the main SD cards errors of data loss? 
DATA RECOVERY STATION Bangladesh has some of the most skilled engineers in the team who are equipped with powerful and proprietary tools to deal with any kind of data loss problem such as:
Formatted Card

Your SD card can be formatted accidentally. Need to recover the lost data? No worry, we can help! If you have formatted your memory card, there is always a possibility for data recovery. With our experts, we can recall the data that's wiped off your memory card without fail.
Damaged Circuitry
Damages is challenging to repair because of extremely tiny semiconductors in memory card. Yet, we have all the right tools and professionals for the job.
Data Corruption
There is no particular reason why data corruption happens. It is a commonly occurring phenomenon sometimes it's because of a certain app that you may have used or because of a hardware malfunction. Our SD card recovery service can help.
Physical Damage
Sometimes it takes just one drop of a phone to damage your memory card. Yet, even in a bad physical condition data can be take out through the right methods. We have experience with thousands of such physically damaged SD cards!
Virus/Malware
Viruses, and other kinds of malware have always been a major threat for data devices. In the meantime, hundreds of new malware programs are released on a daily basis but the best anti-virus programs can't offer 100% protection all the time. So, if your SD card is infected with one such program, our team can eradicate it from the system and recover your vital data in the safest possible way.
 What is the common SD or Memory Card Data Loss Scenarios? 
These following are the common SD or Memory Card Data Loss Scenarios:
Accidental formatting of SD card
Accidental formatting of CF card
Corrupted data on the memory card
NAND chip memory failure
CF card fails to be recognized by computer
Memory or SD card presents errors
Disaster has occurred to the memory card (fire, water, physical damage)
We have outlined the most common occurrences from our many years of experience though there are various factors that may contribute to the need for memory card data recovery. So, if you are experiencing the factors which are not listed, we are still able to support you. It is our pride that we are able to recover from any type of memory card data loss scenario with no limitations on the brand, size, complexity, or severity.
 Why should I choose DATA RECOVERY STATION Bangladesh for SD card recovery service? 
DATA RECOVERY STATION Bangladesh offer the entire range of data recovery services. We have a powerful infrastructure complete with some of the most advanced tools and software, as well as carefully picked IT professionals who are best in their line of work.
We know that you bring to us the SD card containing expensive and vital data. So, we take a number of measures to ensure that your data is secured without any loss. With us, you can enjoy the following features:
Recovery service for all kinds of memory cards.
Support for all big and small memory card brands including Transcend, Kingston, Viking, Samsung, Sony, etc.
Your privacy and confidentiality:
We ensure that the data restored is kept in a secure location and protected from unauthorized access.
Supreme customer service to ensure that you are able to get the desired results as quickly as possible. Our customer support executives are always available to answer your queries and concerns regarding our damaged SD card recovery processes and techniques. So, call us! We are always there for your Data recovery issues.
Drop it to us we will recover your data.
Our data recovery service comes with 100% money back policy.
We will give you adequate time to verify your recovered data. We are the best qualified company in Bangladesh as a data recovery service company. We earned an excellent popularity within a short period of time.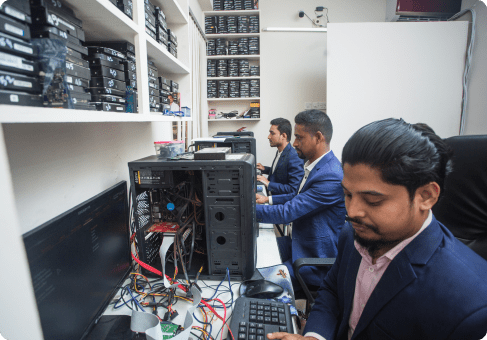 We have the right technologies, as well as an ISO 5 Standard (Class 100) clean lab facility.
With certified Cleanroom technology and a widespread track record of success. Our dedicated data recovery specialist will work with you to fix the greatest course of action for your data recovery.
You need assistance from experienced engineers that avoid a data loss tragedy, when your media fails. As a customer, you need an excellent security, fast turnaround and the best available technology to recover your files as swiftly and as securely as possible.
Real Stories
From Real Clients
I am really happy, 'Data Recovery Station' helping me to recover my data. This is one of the finest organization ever
I seen in my life to support all types of data recover. When you face some problem in your Hard disk, Pen drive and
Etc devices which hold/preserve data and if you want to recover this data. Then don't waste your time, just contact with him.
I got a quick service from Data Recovery Station when i needed the most.i got my all important videos and images
within a short time from a RAW formatted sd card.Excellent Service from the team and Behavior was very humble. Highly Satisfied
One of the best rocovery centre in Bangladesh,
One of the best rocovery centre in Bangladesh, "my experience" . Their behaviour is excellent in one word.
If there is any credible center in Bangladesh, they are one.I am 100% satisfied.Recommend 👍😊
Best Solution For Your Device
Drop it to us we will recover your data.